Nah, not some bearded old guy living in a cabin in the woods, but Karl Green, bassist for Herman's Hermits–cutie pie Karl with his irresistible British accent. Be still my heart!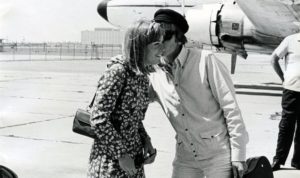 I first met Peter "Herman" Noone and his Hermits, Keith Hopwood (guitar), Derek Leckenby (lead guitar), Barry Whitwam (drums) and Karl Green (bass), in July 1965 when I was a reporter for Rhythm 'n' News. We talked for the first time at their rented home in Hollywood, also famous as "the house where the Beatles stayed." The Hermits were in LA for a concert at the Rose Bowl on August 7, 1965. I found it easy being around the Hermits–Peter and Karl were only months younger than me and the others only a year or two older. We were all teenagers being teenagers.
Our connection was immediate, as "Pete," (Noone), dressed in a fraternity sweatshirt, opened the door with a casual "Hello, luv, come on in." I had arranged the interview with their manager. Moments before, I drove up to the well-guarded gateway, met by a barrage of young Hermits fans. "Why does she get to go in?" one of the bell-bottom-clad teenagers wailed. Another ran to the car window and pleaded, "Can I sneak in, in your trunk?"
Once past the excited youngsters and safely inside the high walls, which surrounded the Benedict Canyon home, I found the boys were "hanging out." Keith was slouched in one corner of a large couch engrossed in the book, The Three Musketeers. I casually interviewed the guys, and Peter was first to recount a story from their many escapades during the Hermit's five-week stay in the sun-drenched movie capital of the world–Hollywood.
"I was riding on my motor bike. I was going pretty fast—about thirty-five in a twenty five mile zone. A police car had been following me for a long time. But when he started his siren, I thought he was after someone else.
"I had no idea it was a law to pull over and stop when you hear a police siren," Pete continued. "Suddenly he whipped past and cut me off. I had to slam on my brakes. I didn't know what might happen—I didn't have a driver's license!
"The policeman came at me and growled, 'Got any pictures on ya?' He just wanted an autograph!"
After my own exciting ride on Pete's motorbike later in the evening, I returned and got more one on one interview time with each of the Hermits. I was pretty much ready to head for home at about midnight, and Karl saw me to my car. Before saying goodnight, he asked if we could go out on the Fourth of July. I had no plans, and while I was trembling inside that this cuter-than-cute boy had asked me out, I managed to keep my cool and answer "I'd love to." We set a time for me to pick him up and we were each going to think about what we'd like to do (me being the California native who was supposed to know all the cool things to do in Southern California).
I arrived back at the house at 10 a.m. on July 4th. I dressed in jeans and so did Karl. We went with both of my ideas for the day/evening. First we went horseback riding in Griffith Park. I only took a few photos, none of us together–damn it–but I got a great shot of Karl sitting up in the saddle (he had ridden before) while he had the horse in a spirited canter. Fifty years later when I reconnected with Karl, I was thrilled he had that photo enlarged and framed on his living room wall. Wow! So cool!
But back to 1965–we had a fabulous ride, on a perfect July day, then drove down to Huntington Beach for a late lunch at a fabulous beach joint with the best hamburgers around. We did some shopping for a picnic for dinner. I had a blanket in the car and we took our picnic dinner and sodas and found a spot on the very crowded beach. Some people had fires going, and they were cooking hot dogs over the fire. There were all ages, but we were having fun, happy to be "alone," and still getting to know one another. At 9 p.m., the fireworks started and we both delighted in the excitement of a Fourth of July fireworks display. After the fireworks the beach was dark and mostly deserted, and we found ourselves making out on our beach blanket. Very much like an Annette Funicello and Frankie Avalon beach movie, we made out like the eighteen and seventeen-year-olds we were. I had turned eighteen in February, and Karl would turn 18 on July 31st.
That was as far as our "romance" went. I saw Karl many times after that, but all our meetings were at press conferences or scheduled interviews for Tiger Beat. Then, I didn't see him for a year or more. When I traveled to London in 1967, I was invited to spend the day on the set of Mrs. Brown You've Got a Lovely Daughter at Shepperton Film Studios in the London countryside. I got to hang around the set all morning, then went to lunch at an old country inn where the boys were staying. At this lunch, Karl introduced me to his bride.
Thanks to Facebook, Karl and I reconnected in 2015. I was delighted when I messaged him and asked if he remembered me. He wrote back, "Of course I remember you, I had a mad crush on you!"
A few weeks later, when he was appearing near Chicago, we spoke by phone, reminisced about our date, and caught up with each other's lives, families, kids. His voice sounded just the same (British accents are still sexy) and the camaraderie was just as strong fifty years later.
Good times. . .Ann Moses reporting about "back in the day."