Dick Dodd, dead at the age of 68 on November 29, 2013. I felt it was coming, but still it hit me like a hammer. Had so much time really passed?
I first saw Dick back in 1963 and 1964 when he played with the group Eddie and the Showmen and then with the Standells, along with groups like the Beach Boys, at the Retail Clerks Union Hall in Buena Park, California, across the street from Knott's Berry Farm. The Standells were a super popular "garage band" at the time and had not yet recorded their biggest hit "Dirty Water." That song was recorded in 1965 and topped the charts at #11 in June of 1966. The song was revived in the early 1990s by the Boston Bruins hockey team and the Boston Red Sox – both teams play the song at their games. "Dirty Water" is listed in the The Rock and Roll Hall of Fame's "500 Songs that Shaped Rock and Roll."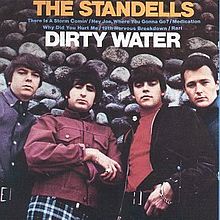 "Retail Clerks" as we called the hall was a huge venue and on Saturday nights, kids from all over Southern California went there to listen to the bands and dance all night on a fabulous wooden dance floor. Honestly, I never paid much attention to the bands, and my girlfriends and I kept our eyes out for our friends from high school and danced the night away. We were never part of the row of young people that hung out at the foot of the stage to watch the bands. We just wanted to dance.
I never met Dick or the other Standells until November of 1966. Previously, I had been on tour with Paul Revere and the Raiders and Dino, Desi and Billy in August as they traveled through Florida. My bosses at Tiger Beat were so thrilled with the story of being on tour with these popular groups and all the behind-the-scenes photos I shot, that their "Christmas present" to me was to go on another week's tour with Paul Revere and the Raiders through the Southern states. This time the Standells were on the tour as well.
When I landed in Georgia, I was introduced to Dick Dodd, Tony Valentino, Larry Tamblyn and John Fleck. I was immediately drawn to Dick Dodd, the lead singer and drummer for the band. He was so "un-Hollywood" as I described him in my first article on the group for Tiger Beat. Down to earth, he liked spending time with his friends and family at their home in Redondo Beach back in California. And he was so cute. He was tall, slender, had warm brown eyes, and irresistible dimples when he smiled. I didn't realize that he had such beautiful brown skin because his mother was of Mexican descent.
For several days, I would climb on the on the tour bus each morning and Dick came to sit beside me in the double seats as we traveled to the next concert in the next city. In a letter to my parents on Montgomery, Alabama, Holiday Inn stationery I wrote, "How the hell are you? Just teasing, Dick said to say that. Dick is the drummer and lead singer in The Standells, who are outasight as the teenies say. So do I for that matter.
"We're here in Montgomery, it's 1:45 in the afternoon and we're watching the Notre Dame versus Michigan game on TV. In a little bit I'm interviewing Paul Revere, then I'm taking color shots of Phil Volk, then. . .The Standells have asked me to take color shots of them that they might want to buy for an album cover!
"Everything has gone really smoothly, the shows have been fabulous! And the bus rides are soooooo beautiful. Last tour I was so busy interviewing the Raiders or sleeping as we drove to the next show, that I didn't see any of the countryside. But this time I ride with all the other groups in one bus. The Raiders have their own bus with eight beds, stereo, TV, etc. They sleep on all the drives. As a result, I've seen so much of the South!
"I've always heard about 'fall,' but actually we never see it in California. Here all the trees are yellow, brown, green and red. It's fantastic! Also, the weather is unbelievable for November, about 70 degrees every day.
"I stayed up all night in Augusta yesterday. After the show we all went to a great club where they had an old piano and tiffany lamps, then we went to another club and two of the Standells, two Raiders, and Dee Robb jammed (played together on a song) and it was too much. Then we came back to the hotel and Dick and Smitty played songs until 4 this morning. Next Dick and I went out to the children's playground at the hotel and swung on the swings and talked until about 6 a.m. Then Dick took me to breakfast, after that I slept for three hours and we left for Montgomery."
I continued to rave about Dick in my letters to my parents: "Dick was in the Mouseketeers when he was nine, ten and eleven years old, so I've been bugging him constantly asking him questions about those days. Poor baby. Also, he used to play in the band Eddie and the Showmen who played at Retail Clerks Union Hall in Buena Park every week. Remember, I went all through my junior year dancing there every Saturday night.
"Last night backstage I taught him 'Meet Me in St. Louis.' (This was a tap dance routine to the song 'Meet Me in St. Louis' that I had learned and performed when I took dance lessons as a child. Of course, as a Mouseketeer Dick knew how to tap dance.) We tap danced for everyone for about an hour. By the time he had to go on stage, he was really worn out. It was really fun, though."
I'll never forget some of the magic moments from that tour, and I'm so sad that we did not keep in touch over the years. And many more generations of fans came to love him as Dick was a wonderful man, had a warm heart, and loved his music and performing. He brought much joy to his fans throughout his life. A life that, sadly, was way too short.
I'll miss you, Dickie. But you'll always be in my memories and my heart.
Good times. . .Ann Moses reporting about "back in the day."