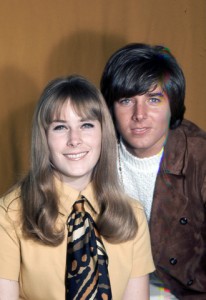 When I moved to Hollywood in 1966 I knew how to cook 3 things: pancakes, brownies and French toast. Moving from my parents' home in Anaheim, I moved into a 1 bedroom furnished apartment in West Hollywood. My across the street neighbor was Davy Jones. Though I know now that TV dinners were in the supermarkets, I had never had one and it didn't occur to me to eat a frozen dinner.
I had grown up in a traditional post-war family, stay-at-home mom, my dad was a banker and every night when he would come home from work, my mom put a home-cooked meal on the table and my older brother, parents and I sat down and enjoyed the food and family conversation. We only ate in front of the TV on TV trays on Sunday nights when we either had take out pizza paired with a salad my mom made with homemade blue cheese dressing or Pink's hamburgers and fries. Pink's Drive-in was a hamburger stand about a mile from our house. Dad would drive down and get us 10 cent burgers, fries and shakes. A semi-weekly treat to be sure, then we would watch the Ed Sullivan Show as we enjoyed our meal.
Once on my own, I didn't make a big deal out of dinner. I ate lunch almost every day at a restaurant, usually with my girlfriends from work, sometimes on my own, but seldom at fast food joints. There were only a few in those days anyway. I'd go home and was happy to just make a sandwich or eat a bowl of cereal for dinner.
Because my family was of modest means, we only ate at restaurants on rare occasions. Once or twice a year we went to a fancy buffet restaurant where the main attraction was perfectly cooked roast beef and sides of mashed potatoes and peas. We lived about 5 miles from Knott's Berry Farm. In the 60's it was just the Ghost Town attraction, no rides, but they served Mrs. Knott's fried chicken dinner 7 nights a week. We would have dinner there about once a year.
As you might imagine, going out to restaurants, fancy or plain, was a big deal to me. It was always special.
I can't remember my dining with the stars in any particular order. I do know that over the course of my years at Tiger Beat I would discover a love of food and fine dining, but in each instance it was a matter of baby steps toward me becoming a foodie.
One of my first introductions to a "new" food was when I was traveling with Paul Revere and the Raiders and the Standells on their November 1966 tour through the southern United States. Usually one or more of the guys would invite me to join them for breakfast before climbing on the tour bus to head to the next city on the tour. So, having grown up on bacon, eggs and toast for breakfast (one of my mom's rules on school days, and we were allowed cereal only on the weekends), this was my order at every breakfast. But in the South, that order comes with grits, something I had never tasted in my life! I actually thought it was pretty boring, grits with a pat of butter. Ugh! Funny to think back on that time, when today cheese grits are a traditional part of my Christmas day breakfast for my family and I have made polenta lasagna and countless dishes with polenta (corn meal) as the star of the meal.
I never had really expensive cuts of beef growing up, although my mom's pot roast was killer. So, sometimes when I would need to do an in-depth interview with Bobby Sherman, rather than stretch it out asking one question on each of his breaks from filming "Here Comes The Brides," he would invite me out to lunch at the Yankee Pedlar restaurant in Burbank, right across from the NBC studios and nearby the Columbia Ranch, where the outdoor sets for many Screen Gems shows were filmed.
Half of the fun began before we got to the restaurant as Bobby would drive me there in his Rolls Royce. Then it would just be the two of us and I would order a dinner meal, as would he, and as we ate slowly, we would do our interview. It would usually be a 2 hour lunch, but it was the times Bobby and I went to this restaurant that I fell in love with Prime Rib and Horseradish Sauce. I never ordered anything else. It was like a ritual. I know, tough job, but somebody had to do it!
Early in my Hollywood days I met and became good friends with Genie the Tailor. She was older than me by about 5 years, so she was both a friend and a mentor in life skills. She had moved to Hollywood from New York, so just by virtue of being a New Yorker she was much more worldly than I. She made costumes and clothes for many of the rock stars of the day, and with her great wit, she wrote a monthly column for Tiger Beat called "Genie's Adventures in Groovyland."
She had met Eric Clapton on his first tour of the United States in 1966 and had a crush on him. Eric Clapton became a rock icon, but early in his career he was just another member of the band called Cream, with Ginger Baker and Jack Bruce. He had left the Yardbirds by then, but he was not the superstar he would become.
One night, Genie called me and invited me to go out to dinner with she and Eric. Why I'll never know. Maybe she
was a bit nervous, though Genie was one of the most self-confident people I have ever met. Whatever the reason, we met at Genie's house in Laurel Canyon (the Hollywood bastion of hippiedom), and I drove to Tail of the Cock, a British pub on Sunset Boulevard. I had never been there before, but the restaurant had a reputation of having the best beef short ribs in the universe. Genie was a vegetarian, but she always found good things to eat. I was not shy about ordering the house special, nor was Eric, and it was amazing. Eric was somewhat shy, but the conversation was mostly between him and Genie. It was still a fun night and to this day I marvel at the path Eric's life took, the good and the bad. As for the short ribs, I adored them and whenever a British group would be in town and ask about going out to dinner, this was the first place I recommended, as long as I was invited!
On my first trip to London, I caught up with Herman's Hermits as they were filming their third movie "Mrs. Brown You've Got a Lovely Daughter" at Shepperton Studios, Shepperton, Surrey, England. I first became friends with Peter Noone and the rest of the group in 1965, even before I went to work for Tiger Beat. We were all about the same age and just hit it off as great friends! I would see them every time they came to Hollywood.
While filming the movie, they stayed at a nearby bed and breakfast. It was an historic farmhouse that had been turned into an elegant, upscale B & B. So, after spending the morning watching them film, we all went back to the B & B for lunch. I met Karl's new wife and we all had a sumptuous luncheon in the formal dining room, which looked out upon the green English countryside.
Ah, but we did not order lunch, it was a meal the chef prepared for our group. The entrée: fish. Back in Anaheim, growing up, I hated fish. The only thing from the sea I would eat was batter fried shrimp. Anything else I would not touch. But my mom never forced me to eat fish and as soon as I got my driver's license, she would let me drive down to Pink's Drive-In for a hamburger on the nights she would serve fish.
I was in an awkward position. I would never be so rude as to say I wouldn't eat what was so graciously served to me, so I just got up my nerve and broke off a small piece with my fork and began to chew. It was a filet of sole in a lemon butter sauce and it was amazing!
In that one moment that was forced upon me, I broke out of my "no fish" hole and never looked back. In the coming years I would not only enjoy fish of all kinds, but I spent a lot of time fishing off the California and Baja coast and even became a sushi enthusiast. My mom never would have dreamed it would turn out as it did.
I had never been a coffee drinker, but after spending 3 weeks in London, I was addicted to English Breakfast tea with milk and sugar. I would start each day with my tea as I read the Los Angeles Times before heading to work. I had moved from my 1 bedroom apartment to a rented house on Beachwood Drive, just down the road from the famous Hollywood sign. I also began a Sunday night ritual. I watched Julia Child on PBS and I bought a copy of her cookbook "Mastering the Art of French Cooking," and I began to work my way through her cookbook. It would be a labor of love for many years, but it was so much fun learning to cook.
I hadn't started my TV cooking lessons when I had Harry Nilsson over for dinner at my house. Harry and I were introduced when Greylon Landon, head of publicity for RCA records, asked me to do a favor and write about one of their new artists, Harry Nilsson. I was happy to do a favor for Greylon as he had been a valuable contact for me to write about Elvis Presley for the New Musical Express in England, which published my weekly column, "America Calling by Ann Moses."
So, I did a brief interview with Harry at the RCA offices and I found him to be a fascinating person. He was older than me, divorced from his first wife and a former banker. He had left the world of finance to pursue his love of writing and singing music. Because our interview had been so comfortable, I asked Harry if he'd like to come over for dinner sometime. He eagerly accepted. He was a bachelor and liked the idea of a home-cooked meal.
There was never a romantic attraction between us, but we did share a warm friendship. Still, I was nervous about the dinner I would prepare for him. I called my mom and got her recipe for one of my favorites of her dinners: pork chops braised with apples, raisins and apple cider, and rice pilaf as the side dish. I wasn't 21 yet, but I had a friend buy some wine and since I really wasn't crazy about wine, I chose a liebfraumilch, which is a white German wine that is on the sweet side, at least the one I chose, which made it drinkable.
We had a lovely evening, Harry loved the food and we talked constantly. I served dessert, what else – brownies and vanilla ice cream. Who doesn't like brownies? This dinner was not the pinnacle of my culinary expertise, but we had a wonderful time together and Harry reciprocated by inviting me out to dinner at a little Hollywood French bistro. The meal was better than mine, but the camaraderie was just as superb.
Good times. . .Ann Moses reporting about "back in the day."